There are lots of New Zealand books for children that are great read alouds, either to share one-on-one with your children or in a classroom.  Here are my Top 10 NZ Read Alouds, some old and some new (in no particular order).
Red Rocks by Rachael King
While holidaying at his father's house, Jake explores Wellington's wild south coast, with its high cliffs, biting winds, and its fierce seals. When he stumbles upon a perfectly preserved sealskin, hidden in a crevice at Red Rocks, he's compelled to take it home and hide it under his bed, setting off a chain of events that threatens to destroy his family. Can he put things right before it's too late?
Suggested read aloud age: 9+
See Ya Simon by David Hill
Simon is a typical teenager – in every way except one. Simon likes girls, weekends and enjoys mucking about and playing practical jokes. But what s different is that Simon has muscular dystrophy – he is in a wheelchair and doesn t have long to live. See Ya, Simon is told by Simon's best friend, Nathan. Funny, moving and devastatingly honest, it tells of their last year together.
Suggested read aloud age: 11+
The Brain Sucker by Glenn Wood
How would you act if part of your personality was stolen with a brain-sucking machine?
Lester Smythe has a black heart. He s invented a dangerous brain-sucking machine that removes the goodness from its victims, and he intends to use it to rid the world of all human kindness. But Lester didn t count on thirteen-year-old Callum McCullock and his two best friends, Sophie and Jinx. The trio vow to destroy the brain sucker. And nothing will stop them.
Suggested read aloud age: 8+
Snake and Lizard by Joy Cowley
Snake is elegant and calm, and a little self-centred; Lizard is exuberant and irrepressible. Even though they're opposites, they are good friends. With its wisdom, acceptance and good humour, Snake and Lizard captures the essence of friendship.
Suggested read aloud age: 7+
Steel Pelicans by Des Hunt
Sometimes friendship and loyalty can be dangerous things – especially when fireworks are involved. Inseparable Aussie friends dare-devil Dean and tag-along Pelly often get up to no good. That's what makes them the Steel Pelicans. But as Dean's homemade fireworks get increasingly dangerous, things start going wrong, and Pelly's parents hasten a move back to New Zealand. After living most of his life in Australia, Pelly feels like he's been dumped in a foreign land with no friends and a school that doesn't care, until he joins up with Afi Moore and is invited to stay the weekend at the Moores' seaside bach. Then the pair stumble on a smuggling operation and find themselves deep in trouble, which only gets worse when Dean comes over for the holidays. In no time at all, Dean's obsession with explosives threatens not only the investigation but also their lives.
All of Des Hunt's other books are great read alouds too.
Suggested read aloud age: 10+
Northwood by Brian Falkner
Cecilia Undergarment likes a challenge. So when she discovers a sad and neglected dog, she is determined to rescue him. No matter what. But her daring dog rescue lands her in deep trouble. Trouble in the form of being lost in the dark forest of Northwood. A forest where ferocious black lions roam. A forest that hides a secret castle, an unlikely king and many a mystery. A forest where those who enter never return. But Cecilia is determined to find her way home. No matter what.
Suggested read aloud age: 9+
Juno of Taris by Fleur Beale
Juno is young; she has no authority, no power, and to question the ways of Taris is discouraged. She knows what it's like when the community withdraws from her – turning their backs and not speaking to her until she complies.The Taris Project was the brainchild of a desperate twenty-first-century world, a community designed to survive even if the rest of humanity perished. An isolated, storm-buffeted island in the Southern Ocean was given a protective dome and its own balmy climate. And now Juno is one of 500 people who live there – but what has happened to the outside world in the years since Taris was established? The island has not been in contact with Outside since the early years of its existence.Juno yearns to know about life Outside, just as she yearns to be allowed to grow her hair. It is a rule on Taris that all must have their heads shaved bare. But is it a rule that could be broken? Danger awaits any who suggest it.
Suggested read aloud age: 11+
Super Finn by Leonie Agnew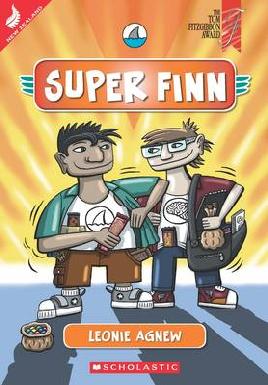 When Mr Patel asks his class what they'd like to be when they grow up, Finn (most famous for getting in trouble and doing stupid things) chooses 'superhero'. With his friend Brain, the two boys make a list of things needed to be a superhero, including superpowers and saving someone's life. Can Finn use his superpowers to help save his World Vision sponsored child? Sometimes, despite the best intentions, things don't always work out as planned. Join the hilarity as the boys' money-making scheme comes unravelled. Look out, world …here comes Super Finn!
Suggested read aloud age: 7+
The Wolf in the Wardrobe by Susan Brocker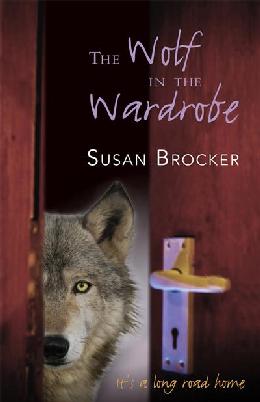 Finn had seen those eyes before. They were golden yellow, like the colour of the moon hanging low in the sky. And they were full of pain. When Finn comes across a car accident, little does he realize his life is about to change forever. The huge, injured animal he discovers is no dog – but a wolf, escaped from the circus. Finn is bewitched. Instinctively, he knows he must save the wolf, Lupa, and prevent her return to the cruel circus. Where to hide the wolf, and how to feed her, are just the beginning of Finn's problems. For the sinister circus clown, Cackles, is hot on their trail and will stop at nothing to get Lupa back. But Cackles doesn't even like wolves, so why is he so determined to get her? In a race against time to save Lupa, Finn gets help from unlikely quarters. But will it be enough?
Suggested read aloud age: 10+
2Much4U by Vince Ford
Summer. A time for swimming, tennis, picnics and fun for everyone.  Everyone, that is, except Davin.  Davin has to work.  He has to work to earn money to buy his mother a new car.  The other car had an accident, and although his mother believes she left the handbrake off, Davin knows that he is responsible.  Feeding fierce dogs, riding horses, spraying ragwort  – these are just some of the jobs he gets offered in answer to his advertisement.  2MUCH4U is a great way to make money, but The Great Car Challenge sounds like the perfect answer.  Bullies, cheats and first love conspire against him but Davin knows he must win.  Holding onto a car for the longest time – no problem.
Suggested read aloud age: 10+