Fortunately, the Milk by Neil Gaiman
You know what it's like when your mum goes away on a business trip and Dad's in charge. She leaves a really, really long list of what he's got to do. And the most important thing is DON'T FORGET TO GET THE MILK. Unfortunately, Dad forgets. So the next morning, before breakfast, he has to go to the corner shop, and this is the story of why it takes him a very, very long time to get back. Featuring: Professor Steg (a time-travelling dinosaur), some green globby things, the Queen of the Pirates, the famed jewel that is the Eye of Splod, some wumpires, and a perfectly normal but very important carton of milk.
Spirit Animals: Wild Born by Brandon Mull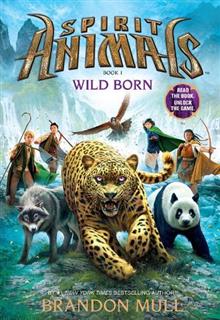 Four children separated by vast distances all undergo the same ritual, watched by cloaked strangers. Four flashes of light erupt, and from them emerge the unmistakable shapes of incredible beasts – a wolf, a leopard, a panda, a falcon. Suddenly the paths of these children – and the world – have been changed forever.
Enter the world of Erdas, where every child who comes of age must discover if they have a spirit animal, a rare bond between human and beast that bestows great powers to both. A dark force has risen from distant and long-forgotten lands, and has begun an onslaught that will ravage the world. Now the fate of Erdas has fallen on the shoulders of four young strangers . . . and on you.
The Lost Boy by Greg Ruth
Some mysteries are too dangerous to leave alone. Nate's not happy about his family moving to a new house in a new town. After all, nobody asked him if he wanted to move in the first place. But when he discovers a tape recorder and note addressed to him under the floorboards of his bedroom, he's thrust into a dark mystery about a boy who went missing many, many years ago. Now, as strange happenings and weird creatures begin to track Nate, he must partner with Tabitha, a local girl, to find out what they want with him. But time is running out, for a powerful force is gathering strength in the woods at the edge of town, and before long Nate and Tabitha will be forced to confront a terrifying foe and uncover the truth about the Lost Boy.
Stay Where You Are and Then Leave by John Boyne
The day the First World War broke out, Alfie Summerfield's father promised he wouldn't go away to fight – but he broke that promise the following day. Four years later, Alfie doesn't know where his father might be, other than that he's away on a special, secret mission.
Then, while shining shoes at King's Cross Station, Alfie unexpectedly sees his father's name – on a sheaf of papers belonging to a military doctor. Bewildered and confused, Alfie realises his father is in a hospital close by – a hospital treating soldiers with an unusual condition. Alfie is determined to rescue his father from this strange, unnerving place.
Flora and Ulysses: The Illuminated Adventures by Kate DiCamillo
It begins, as the best superhero stories do, with a tragic accident that has unexpected consequences. The squirrel never saw the vacuum cleaner coming, but self-described cynic Flora Belle Buckman, who has read every issue of the comic book Terrible Things Can Happen to You!, is the just the right person to step in and save him. What neither can predict is that Ulysses (the squirrel) has been born anew, with powers of strength, flight, and misspelled poetry – and that Flora will be changed too, as she discovers the possibility of hope and the promise of a capacious heart.
Demon Dentist by David Walliams
The new jaw-achingly funny novel from David Walliams, the number one bestselling author! Make your appointment if you dare…Darkness had come to the town. Strange things were happening in the dead of night. Children would put a tooth under their pillow for the tooth fairy, but in the morning they would wake up to find…a dead slug; a live spider; hundreds of earwigs creeping and crawling beneath their pillow. Evil was at work. But who or what was behind it…? Read this book and find out!
Pinocchio, retold by Michael Morpurgo
Pinocchio as you've never seen him before: telling his own story through the master storyteller and award-winning author of WAR HORSE. "Now – there's no point in pretending here – I was, and still am deep down, a puppet. Everyone knows Pinocchio is a puppet. I reckon I must be just about the most famous puppet the world has ever known. But the truth is I'm not just a puppet, I'm more than just bits of wood and string. I'm me. So I thought it was about time that I, Pinocchio, told you my story…" So begins this stunningly beautiful interpretation of the classic story. Michael Morpurgo channels Pinocchio's words to tell the famous puppet's story in his own inimitable, cheeky and always funny way. Lavishly illustrated throughout in full colour by the acclaimed Emma Chichester-Clark, this is a must-have gift for all book lovers, and an utterly charming and surprising adaptation of a much-loved tale.
All the Wrong Questions: When Did You See Her Last? by Lemony Snicket
I should have asked the question 'How could someone who was missing be in two places at once?' Instead, I asked the wrong question — four wrong questions, more or less. This is the account of the second.
In the fading town of Stain'd-by-the-Sea, young apprentice Lemony Snicket has a new case to solve when he and his chaperone are hired to find a missing girl. Is the girl a runaway? Or was she kidnapped? Was she seen last at the grocery store? Or could she have stopped at the diner? Is it really any of your business? These are All The Wrong Questions.
Marina by Carlos Ruiz Zafon
Barcelona, 1980. Óscar Drai finds himself drawn to an old dilapidated mansion where he meets the captivating and elusive Marina. She leads him to the cemetery to witness a mysterious ritual: on the fourth Sunday of every month, a veiled woman alights from a carriage and lays a single rose on an unmarked grave.
Óscar and Marina are swept on a journey into the city's dark underground of labyrinthine sewers, corrupt policemen, ageing aristocrats, forgotten societies and criminal depravity…to a sinister tale of love, ambition and jealousy that will hold Óscar's heart forever.
Arclight by Josin L. Mcquein
Marina can't remember anything about her life before she stumbled out of the Dark and into the Arclight. Where has she come from? How has she survived? Any why do the rulers of the Dark seem determined to destroy her? To find out, she will have to venture back into the Dark.
Skulduggery Pleasant: Last Stand of Dead Men by Derek Landy
War has finally come. But it's not a war between good and evil, or light and dark – it's a war between Sanctuaries. For too long, the Irish Sanctuary has teetered on the brink of world-ending disaster, and the other Sanctuaries around the world have had enough. Allies turn to enemies, friends turn to foes, and Skulduggery and Valkyrie must team up with the rest of the Dead Men if they're going to have any chance at all of maintaining the balance of power and getting to the root of a vast conspiracy that has been years in the making. But while this war is only beginning, another war rages within Valkyrie herself. Her own dark side, the insanely powerful being known as Darquesse, is on the verge of rising to the surface. And if Valkyrie slips, even for a moment, then Darquesse will burn the world and everyone in it.
The Last Thirteen by James Phelan
I click my fingers and everybody dies.
Sam wakes from his nightmare to discover the terrifying reality. It will come true.
Kidnapped from school and finding out his parents aren't who he thinks they are, Sam is suddenly running from danger at every turn. Nothing will ever be the same again.
With his life and identity shattered, Sam's salvation is tied to an ancient prophecy. He is in the final battle to save the world, up against an enemy plotting to destroy us all.
He alone can find the last 13.
Are you one of them?
Lockwood and Co.: The Screaming Staircase by Jonathan Stroud
When the dead come back to haunt the living, Lockwood & Co. step in . . .
For more than fifty years, the country has been affected by a horrifying epidemic of ghosts. A number of Psychic Investigations Agencies have sprung up to destroy the dangerous apparitions.Lucy Carlyle, a talented young agent, arrives in London hoping for a notable career. Instead she finds herself joining the smallest most ramshackle agency in the city, run by the charismatic Anthony Lockwood. When one of their cases goes horribly wrong, Lockwood & Co. have one last chance of redemption. Unfortunately this involves spending the night in one of the most haunted houses in England, and trying to escape alive.
Set in a city stalked by spectres, The Screaming Staircase is the first in a chilling new series full of suspense, humour and truly terrifying ghosts. Your nights will never be the same again…
More Than This by Patrick Ness
A boy named Seth drowns, desperate and alone in his final moments, losing his life as the pounding sea claims him. But then he wakes. He is naked, thirsty, starving. But alive. How is that possible? He remembers dying, his bones breaking, his skull dashed upon the rocks. So how is he here? And where is this place? It looks like the suburban English town where he lived as a child, before an unthinkable tragedy happened and his family moved to America. But the neighborhood around his old house is overgrown, covered in dust, and completely abandoned. What s going on? And why is it that whenever he closes his eyes, he falls prey to vivid, agonising memories that seem more real than the world around him? Seth begins a search for answers, hoping that he might not be alone, that this might not be the hell he fears it to be, that there might be more than just this..
Speed Freak by Fleur Beale
Archie Barrington, fifteen, is the third generation of his family to drive karts competitively. He's good, and this is the year he and his dad have decided he'll have a shot at the Challenge series of six races. If he comes out the winner overall then he wins the chance to race in Europe.However, he's not the only good driver after the prize. Craig is his main rival, and Craig's father is wealthy and prepared to spend whatever it takes to help his son win the Challenge.
Archie doesn't let Craig worry him, but Silver Adams is another matter. She's come back into karting after a two-year break and her ambition seems to be to drive her kart like a weapon of destruction to others on the track, Archie in particular.
His life isn't the smoothest at home either, thanks to Dad's new girlfriend Erica who, in Archie's opinion, is ridiculously overprotective of her seven-year-old son Felix. Karting is the last thing in the world she intends for him to do. However, shy, reserved Felix is fascinated by the whole world of karts.
Archie and Craig dice all year – first Archie wins at a Challenge meeting, but next time Craig does. Archie must win the sixth and last meeting if he's to win the series. All is going well until disaster strikes in the pre-final, when he's pushed off the track and breaks an axle. That's it. Craig will go to Europe but he won't. Then Silver comes to the rescue unexpectedly and Archie is able to drive the race of his life.
Meeting Cezanne by Michael Morpurgo
When Yannick learns that he is to stay with his Aunt Mathilde in the South of France, he cannot believe his luck. If the paintings of his mother s beloved Cezanne are to be believed, surely Provence is paradise itself. So begins an idyllic month for the young boy: roaming the gentle hills and rolling valleys of Aix-en-Provence, daydreaming about his beautiful cousin Amandine; helping in his aunt and uncle s bustling village inn in the evenings; feeling that he has come to the most wonderful place in the world. Then one evening the idyll is spoilt when an important local comes for dinner and Yannick accidentally destroys a precious drawing the man leaves behind. He could never have imagined that his mother s hero, the world-famous Cezanne, would come to his inn, and sit at one of his tables! Yannick is devastated by what he has done, and resolves to make things right. But in so doing he makes a surprising discovery.
Just So Stories, illustrated by Robert Ingpen
"Once upon a time, O my Best Beloved …" So begins this classic collection of gloriously fanciful tales of how things in the world came to be as they are. Here is the story of how the lazy camel found himself with a hump and how the insatiable curiosity of the elephant earned him his long trunk. Of how the whale was given a throat, and why every rhinoceros has great folds in his skin and a very bad temper. Here too, we fi nd out about the cunning cat that walked by itself, and how clever little Taffy and her Daddy Tegumai made the fi rst alphabet. Rudyard Kipling first entertained his own children with these delightful, warm and humorous stories, which he later wrote down for publication in 1902. Conjuring up distant lands and exotic jungles, they are bewitching for both children and adults. In this sumptuous volume, which includes the often missing thirteenth story, "The Tabu Tale" (which Kipling added for the American edition in 1903). Kipling's unforgettable cast of extraordinary animal characters is brought to life in stunning new illustrations by the award-winning illustrator Robert Ingpen.
Just Like Fate by Cat Patrick and Suzanne Young
Caroline is at a crossroads. Her grandmother is sick, maybe dying. Like the rest of her family, Caroline's been at Gram's bedside since her stroke. With the pressure building, all Caroline wants to do is escape – both her family and the reality of Gram's failing health. So when Caroline's best friend offers to take her to a party one fateful Friday night, she must choose: stay by Gram's side, or go to the party and live her life. The consequence of this one decision will split Caroline's fate into two separate paths – and she's about to live them both. Though there are two distinct ways for her fate to unfold, there is only one happy ending…
A Necklace of Souls by R.L. Stedman (NZ)
In the Kingdom of the Rose only the power of the Guardian's necklace can keep the people safe from the forces threatening to destroy it. In a hidden kingdom a mysterious Guardian protects her people with the help of a magical necklace. But evil forces are also seeking the power of the necklace, and as the Guardian grows weaker these forces threaten to destroy the kingdom. With the help of her best friend, Will, and the enigmatic N'tombe, Dana, the rightful heir, must claim the power of the necklace and save her people. But the necklace takes a terrible toll on whoever wears it – a toll that Dana may not be prepared to face. A NECKLACE OF SOULS was the winner of the Storylines Tessa Duder Award for unpublished young adult fiction in 2012.
Seven Wonders: The Colossus Rises
The day after twelve-year-old Jack McKinley is told he has six months to live, he awakens on a mysterious island, where a secret organization promises to save his life – but with one condition. With his three friends, Jack must lead a mission to retrieve seven lost magical orbs, which, only when combined together, can save their lives. The challenge: the orbs have been missing for a thousand years, lost among the ruins and relics of the Seven Wonders of the Ancient World. With no one else to turn to and no escape in sight, the four friends have no choice but to undertake the quest. First stop: The Colossus of Rhodes … where they realise that there's way more at stake than just their lives.
The Book of Doom by Barry Hutchison
Heaven has lost the most important object in existence and getting it back is gonna be Hell … The second hilarious book in Barry's AFTERWORLDS sequence – comic fantasy perfect for fans of Pratchett and Douglas Adams. There's panic up in Heaven. They have mislaid the BOOK OF DOOM – the most important object in existence. Oopsy. They think Satan might have stolen it, the sneaky little devil, so to save the world – plus, you know, quite a lot of embarrassment, fifteen year old Adam and his angelic guide Angelo are sent to retrieve it. Sadly directions aren't Angelo's strong point and they soon find themselves just as lost as the book, wandering through Afterworlds such as Valhalla and Hades and encountering some colourful characters along the way… Can the hapless pair make it to Hell and back?
Timmy Failure: Mistakes Were Made by Stephan Pastis
Take eleven-year-old Timmy Failure – the clueless, comically self-confident CEO of the best detective agency in town, perhaps even the nation. Add his impressively lazy business partner, a very large
polar bear named Total. Throw in the Failuremobile – Timmy's mom's Segway – and what you have is Total Failure, Inc., a global enterprise destined to make Timmy so rich his mother won't have to stress out about the bills anymore.
Fearless by Cornelia Funke
After saving his brother, Jacob Reckless faces death from the fairy's curse burning in his heart. In search of a cure he returns to the Mirrorworld, where he is reunited with Fox, a beautiful shape-shifting girl. He has one more chance: a golden crossbow, with the power to both save and destroy life, buried in a dead king's tomb beneath an invisible palace. Jacob must cross continents, face monsters and men – including a dangerous rival – and learn what it means to stay alive.
A Winter's Day in 1939 by Melinda Szymanik (NZ)
Taken from their home, forced to leave their country, put to work in labour camps, frozen and starved, Adam and his family doubt that they will ever make it out alive. Even if they were to get away, they might freeze to death, or starve, or the bears might get them. For the Polish refugees, the whole of the USSR becomes a prison from which there is seemingly no escape.
Zom-B City by Darren Shan
How many survived the zombie apocalypse?
Where do the living hide in a city of the dead?
Who controls the streets of London?
B Smith is setting out to explore…
Here are some of the great books I'm looking forward to coming in February from HarperCollins New Zealand.
Steel Pelicans by Des Hunt (NZ)
Sometimes friendship and loyalty can be dangerous things – especially when fireworks are involved.
Inseparable Aussie friends dare-devil Dean and tag-along Pelly often get up to no good. That's what makes them the Steel Pelicans. But as Dean's homemade fireworks get increasingly dangerous, things start going wrong, and Pelly's parents hasten a move back to New Zealand.  After living most of his life in Australia, Pelly feels like he's been dumped in a foreign land with no friends and a school that doesn't care, until he joins up with Afi Moore and is invited to stay the weekend at the Moores' seaside bach. Then the pair stumble on a smuggling operation and find themselves deep in trouble, which only gets worse when Dean comes over for the holidays. In no time at all, Dean's obsession with explosives threatens not only the investigation but also their lives.
Des Hunt is one of my favourite New Zealand authors.  He writes adventure/mystery stories set in New Zealand and they usually have an ecological message.  If you live in NZ and haven't read any of Des Hunt's books you should remedy this immediately. They're especially good for boys around age 9+.
The One and Only Ivan by Katherine Applegate
Ivan is an easy-going gorilla. Living at the Exit 8 Big Top Mall and Video Arcade, he has grown accustomed to humans watching him through the glass walls of his domain. He rarely misses his life in the jungle. In fact, he hardly ever thinks about it at all.
Instead, Ivan thinks about TV shows he's seen, and his friends Stella, an elderly elephant, and Bob, a stray dog. But mostly Ivan thinks about art and how to capture the taste of a mango or the sound of leaves with colour and a well-placed line.  Then he meets Ruby, a baby elephant taken from her family, and she makes Ivan see their home-and his own art-through new eyes. When Ruby arrives, change comes with her, and it's up to Ivan to make it a change for the better.
Katherine Applegate blends humour and poignancy to create Ivan's unforgettable first person narration in a story of friendship, art, and hope.
I've heard so many good things about this book and I just know that it's going to be one of those stories that gets right under my skin. 
The Lorax (Eco edition) by Dr. Seuss
An eco-friendly edition of one of my favourite Dr. Seuss stories, printed on 100% recycled paper.  The Lorax movie, starring Danny Devito (as The Lorax) is coming soon so this is a lovely edition to bring the story to a new generation.
Here's some of the books I'm excited about being released from Penguin NZ in February:
Heroes of Olympus: The Lost Hero by Rick Riordan (paperback)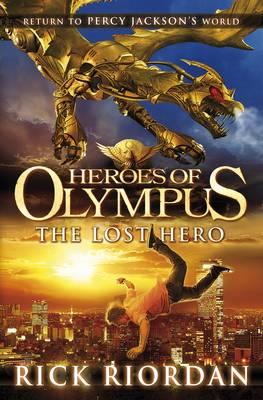 Old enemies awaken as Camp Half-Blood's new arrivals prepare for war. When Jason, Piper and Leo crash land at Camp Half-Blood, they have no idea what to expect. Apparently this is the only safe place for children of the Greek Gods – despite the monsters roaming the woods and demigods practising archery with flaming arrows and explosives. But rumours of a terrible curse – and a missing hero – are flying around camp. It seems Jason, Piper and Leo are the chosen ones to embark on a terrifying new quest, which they must complete by the winter solstice. In just four days time. Can the trio succeed on this deadly mission – and what must they sacrifice in order to survive?
Time Riders: Gates of Rome by Alex Scarrow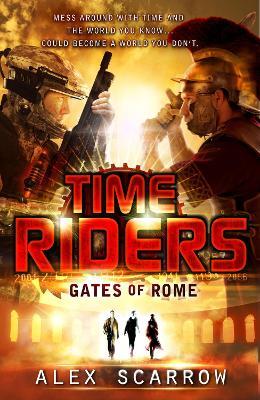 Liam O'Connor should have died at sea in 1912. Maddy Carter should have died on a plane in 2010. Sal Vikram should have died in a fire in 2026. But all three have been given a second chance – to work for an agency that no one knows exists. Its purpose: to prevent time travel destroying history …Project Exodus – a mission to transport 300 Americans from 2070 to 54AD to overthrow the Roman Empire – has gone catastrophically wrong. Half have arrived seventeen years earlier, during the reign of Caligula. Liam goes to investigate, but when Maddy and Sal attempt to flee a kill-squad sent to hunt down their field office, all of the TimeRiders become trapped in the Roman past. Armed with knowledge of the future, Caligula is now more powerful than ever. But with the office unmanned – and under threat – how will the TimeRiders make it back to 2001 and put history right? This is book five in the bestselling TimeRiders series by Alex Scarrow. Ancient Rome gets a time-travel makeover!
Born Wicked by Jessica Spotswood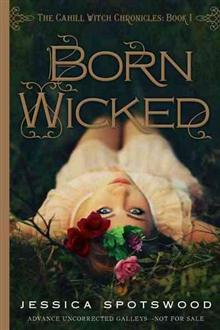 Everybody knows Cate Cahill and her sisters are eccentric. Too pretty, too reclusive, and far too educated for their own good. But the truth is even worse: they're witches. And if their secret is discovered by the priests of the Brotherhood, it would mean an asylum, a prison ship – or an early grave.  Before her mother died, Cate promised to protect her sisters. But with only six months left to choose between marriage and the Sisterhood, she might not be able to keep her word . . . especially after she finds her mother's diary, uncovering a secret that could spell her family's destruction. Desperate to find alternatives to their fate, Cate starts scouring banned books and questioning rebellious new friends, all while juggling tea parties, shocking marriage proposals, and a forbidden romance with the completely unsuitable Finn Belastra.  If what her mother wrote is true, the Cahill girls aren't safe. Not from the Brotherhood, the Sisterhood – not even from each other.
Look out for these great books in libraries and book stores in February.
There are so many great books coming out in 2012 (some of which I don't even know about yet).  What books are you looking forward to in 2012?  Here are just a few of them that I can't wait to get my hands on:
Insurgent by Veronica Roth
No blurb available yet.
Department 19: Rising by Will Hill
The pulse-pounding sequel to DEPARTMENT 19 – "The best action horror story I have ever read" according to Bookzoneforboys…
DEPARTMENT 6 IS THE ARMY.
DEPARTMENT 13 IS MI5.
DEPARTMENT 19 IS ALL THAT STANDS BETWEEN YOU AND THE END OF THE WORLD.
After the terrifying attack on Lindisfarne at the end of the first book, Jamie, Larissa and Kate are recovering at Department 19 headquarters, waiting for news of Dracula's stolen ashes.
They won't be waiting for long.
Vampire forces are gathering. Old enemies are getting too close. And Dracula… is rising.
Queen of the Night by Leanne Hall
The dark is dangerous. So is the past. So are your dreams.
For six months Nia—Wildgirl—has tried to forget Wolfboy, the mysterious boy she spent one night with in Shyness—the boy who said he'd call but didn't.
Then Wolfboy calls. The things he tells her pull her back to the suburb of Shyness, where the sun doesn't rise and dreams and reality are difficult to separate. There, Doctor Gregory has seemingly disappeared, the Darkness is changing and Wolfboy's friend is in trouble. And Nia decides to become Wildgirl once more.
The sequel to the 2009 Text Prize-winning This Is Shyness is about the difficulty of recreating the past—about how the Darkness no longer sets Wolfboy and Wildgirl free.
The Reluctant Hallelujah by Gabrielle Williams
But there I go, getting ahead of myself. Skipping straight to the part where I was front-page news and they were calling me Dorothy, instead of starting at the beginning…
When Dodie's parents go missing just as final year exams are about to start, she convinces herself they're fine. But when the least likely boy in class holds the key — quite literally — to the huge secret her parents have been hiding all these years, it's up to Dodie, her sister, the guy from school, and two guys she's never met before, to take on the challenge of a lifetime. So now Dodie's driving — unlicensed — to Sydney, and being chased by bad guys, the police, and one very handsome good guy.
From the acclaimed author of Beatle Meets Destiny.
Fault In Our Stars by John Green
Despite the tumor-shrinking medical miracle that has bought her a few years, Hazel has never been anything but terminal, her final chapter inscribed upon diagnosis. But when a gorgeous plot twist named Augustus Waters suddenly appears at Cancer Kid Support Group, Hazel's story is about to be completely rewritten.
Insightful, bold, irreverent, and raw, The Fault in Our Stars is award-winning author John Green's most ambitious and heartbreaking work yet, brilliantly exploring the funny, thrilling, and tragic business of being alive and in love.
A Million Suns by Beth Revis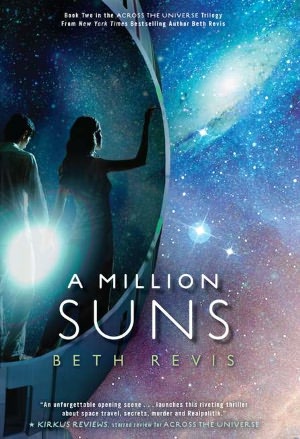 Godspeed was fueled by lies. Now it is ruled by chaos.
It's been three months since Amy was unplugged. The life she always knew is over. And everywhere she looks, she sees the walls of the spaceship Godspeed. But there may just be hope: Elder has assumed leadership of the ship. He's finally free to enact his vision – no more Phydus, no more lies.
But when Elder discovers shocking news about the ship, he and Amy race to discover the truth behind life on Godspeed. They must work together to unlock a puzzle that was set in motion hundreds of years earlier, unable to fight the romance that's growing between them and the chaos that threatens to tear them apart.
In book two of the Across the Universe trilogy, New York Times bestselling author Beth Revis mesmerizes us again with a brilliantly crafted mystery filled with action, suspense, romance, and deep philosophical questions. And this time it all builds to one mind-bending conclusion: They have to get off this ship.
BZRK by Michael Grant
Set in the near future, a conspiracy is afoot to create a perfect and perfectly controlled world. The Armstrong Fancy Gift Corporation is a front for the conjoined Armstrong twins, Charles and Benjamin, and the plot to create their own version of utopia.
A shadowy guerilla group known as BZRK form a nascent resistance movement. Both sides develop sophisticated nanotechnology to achieve their goals:
-The Armstrong twins develop the nanobot, a stealth device that latches onto the brains of unsuspecting citizens
-BZRK's DNA-derived biots are deployed to search out and destroy the insidious bots.  If biots are destroyed, the brain cells of their DNA-donor also die.  Hence the name BZRK.
Why We Broke Up by Daniel Handler
I'm telling you why we broke up, Ed. I'm writing it in this letter, the whole truth of why it happened.
Min Green and Ed Slaterton are breaking up, so Min is writing Ed a letter and giving him a box. Inside the box is why they broke up. Two bottle caps, a movie ticket, a folded note, a box of matches, a protractor, books, a toy truck, a pair of ugly earrings, a comb from a motel room, and every other item collected over the course of a giddy, intimate, heartbreaking relationship. Item after item is illustrated and accounted for, and then the box, like a girlfriend, will be dumped.
Prisoner of Heaven by Carlos Ruiz Zafon
The Prisoner of Heaven returns to the world of The Cemetery of Forgotten Books and the Sempere & Sons bookshop. It begins one year after the close of The Shadow of the Wind when a mysterious stranger enters the shop, looking for a copy of The Count of Monte Cristo.
13th Horseman by Barry Hutchison
Drake Finn has just met the Horsemen of the Apocalypse but is that really the end of the world? Pratchett meets Python in this dark comic fantasy with plenty of action, perfect for 11+ boys
Drake is surprised to find three horsemen of the apocalypse playing snakes and ladders in his garden shed. He's even more surprised when they insist that he is one of them. They're missing a Horseman, having gone through several Deaths and they think that Drake is the boy for the job. At first he's reluctant to usher in Armageddon but does being in charge of Armageddon have to spell the end of the world?
An apocalyptic blend of riotous comedy, heart-stopping action and a richly imagined fantasy adventure.